Return to Headlines
PaymentNet & Pcard Changes Effective 11/7/16
The District Pcard management system, PaymentNet, is being upgraded on November 7th. Users will benefit by enhanced security, simpler reconciliation and added approval features. A summary of changes can be found below. Please contact Pcardsupport@dpsk12.org with any questions or concerns.
We appreciate your continued support of the DPS purchasing card program.
Security Update:
Password Requirements

required to include at least one uppercase character and
one lowercase character in their passwords

Security Questions

Users will be required to review and, if necessary, update their security questions the first time they log in to PaymentNet after the new release goes live.
This enhancement provides improved security by replacing two questions for which the answers could be found in public records.
Subsequently, when a user is required to answer security questions (such as when resetting a password), two questions will be chosen at random. If the user cannot answer both questions correctly, a new set of questions will be displayed.
Chart of Accounts Favorites
With the new release, cardholders and approvers will be able to specify a Chart of Accounts and custom fields for a transaction, and then save these selections as a favorite, thereby making it easier to assign the same accounting codes to additional transactions.
A new button, Add as Favorite, will be available on the Transaction Detail – General Information screen. To save a Chart of Accounts favorite, the user will select the Chart of Accounts and specify any custom fields as required, then click the Add as Favorite button and specify a unique name.

If the transaction is being split into multiple lines, the Add as Favorite button will be available for each line item. This allows the user to save the accounting codes for any line item as a favorite.
Once the user has saved a favorite, its name appears in the Chart of Accounts drop-down list for that user and can be applied to subsequent transactions and line items. There is no limit on the number of favorites a user can create.
Users will also be able to apply favorites to multiple transactions at a time by using the Mass Update function on the Transaction List screen. Saved favorites will appear in the Chart of Accounts drop-down list on the Transaction – Mass Update screen.
Rejected Transactions
With the new release, a transaction approver will be able to reject a transaction, specify the reason for the rejection, and add an explanation for the cardholder; for example, the cardholder may have failed to attach receipts, allocated accounting codes incorrectly, or provided insufficient details. On the Transaction Detail – General Information screen, a new Reject option button will allow an approver to reject the current transaction.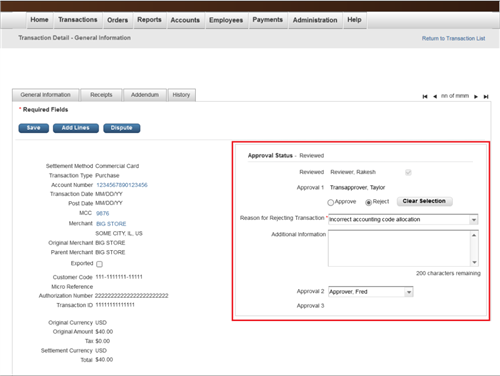 When a transaction is rejected, it is reassigned to the cardholder for review, and the cardholder will see the rejection details in email notifications and on the Transaction Detail – General Information screen. The cardholder can then address the issue and mark the transaction as Reviewed, which resubmits it for approval.
Only transactions with a status of Reviewed or In Process can be rejected. Transactions with a status of New or Approved cannot be rejected. When a transaction is rejected, its status is reset to New.