Living Our DPS Honoree: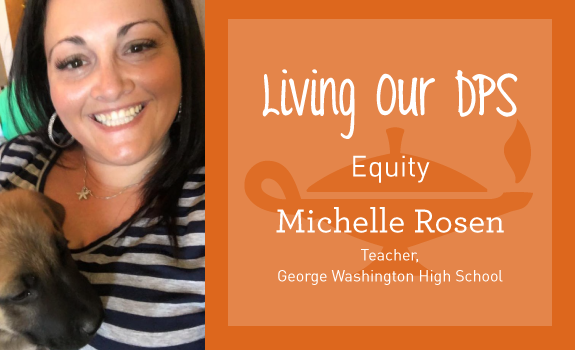 Michelle Rosen
Teacher, George Washington High School
Equity
"Michelle Rosen has worked as a history teacher and AVID teacher for many years at George Washington High School. She is a recognized leader in our school for students, teachers and administrators and believes every student deserves access to a quality education. Ms. Rosen leads several clubs including AVID, Black Student Alliance, and Expressions and created two new courses -- Black Experience Today and Social Issues Today -- because she is passionate about Equity and saw a void in our curriculum. She has continued seeking her own advanced education in an effort to strengthen the content of these courses.
Ms. Rosen's students in AVID report that she builds a challenging and supportive environment in her classroom that they call a family. She works incredibly hard to support the social emotional aspects of her students, collaborates with the school support staff and always pays attention to safety situations to help students receive appropriate resources.
Ms. Rosen also runs the social committee at GWHS and puts a lot of passion into FUN! This creates a positive culture for our teachers. She was the first teacher to welcome me to GW 10 years ago and became a leader first and foremost because of her passion for teaching!"
- Sarah Hartman, George Washington High School
Nominate one of your colleagues to be featured as a Living Our DPS honoree.