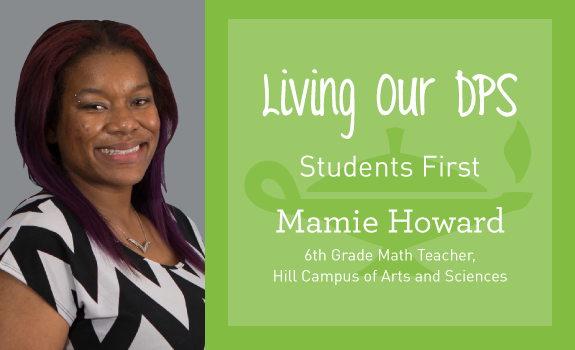 Living Our DPS Honoree:
Mamie Howard
6th Grade Math Teacher, Hill Campus of Arts and Sciences
Students First
Mamie Howard is not only putting Students First, but is also demonstrating many of Our Shared Core Values in the work she is doing at Hill Campus of Arts and Sciences.
"Mamie Howard brings together our community and students to make a positive change and promote growth. She is truly living our DPS Shared Core Values at Hill Campus of Arts and Sciences.
Mamie demonstrates Students First and Fun with her cheer team who have been at almost every sporting event at Hill, cheering our sports teams to victory. Mamie takes her cheerleader's behavior very seriously by setting high expectations for them to be academic role models. Her cheerleaders can come to her for support and guidance on how to improve their work or behavior. Many teachers have commented on the growth these girls have made and see that they care deeply about our school and cheer.
Mamie shows her passion for Equity by leading a typing class for students who need the opportunity to practice typing before taking the PARCC test on the computer. Mamie loves to celebrate student's growth by making sure students feel valued and get the help they need. Additionally, Mamie demonstrates Collaboration and Accountability by being on the CSC board in order to work with admin, fellow teachers, parents and students to listen to our community and promote positive change that benefits every person at Hill.
Mamie is living our Shared Core Values not only because she understands that these are important values in DPS, but also because these values are crucial when working with students, student's parents, colleagues and administration every day."
- Sable Edwards, Hill Campus of Arts and Sciences
Nominate one of your colleagues to be featured as a Living Our DPS honoree.