Janessa Sanders
Teacher, Merrill Middle School
Collaboration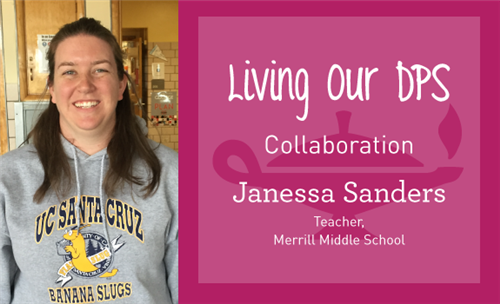 "Janessa is always positive and encouraging when working with her team and other members of Merrill Middle School. She lives our Shared Core Value of Collaboration and always checks to see how teachers are feeling. If Janessa can answer a question or fix a problem, she acts right then and there with enthusiasm. She is quick to laugh when facing adversity, making everyone around her feel like the problem is manageable. Janessa is the perfect person for bouncing off ideas and always adjusts lessons to be both rigorous and engaging. She exemplifies how Collaboration can strengthen a team! "
-- Gabrielle Gerlits, Merrill Middle School
Nominate one of your colleagues who you see living one or more of our Shared Core Values to be featured as a Living Our DPS honoree.