Student Learning Objectives
Educators – teachers and Specialized Service Providers (SSPs) – will not complete SLOs in 2020-21.

CDE announced in July

that 100% of an educator's final effectiveness rating will be based on professional practice for the 20-21 SY only. Student outcomes/growth would not be monitored by CDE as part of teacher evaluation.


Following this announcement, DPS and DCTA jointly agreed

(

2020-21 MOU

)

that SLOs would not be used in evaluation during the 20-21 school year.

Educators will not select an SLO in the SLO Application and will not enter student baseline and end-of-course data into the SLO Application.

Educators may still use district model SLOs (website here) as resources for monitoring student progress

.

District model SLOs include:

An objective statement and performance criteria summarizing the most important concepts and standards for the year,

A learning progression to monitor growth towards standards mastery,

Recommended assessments for use in determining both

students' baseline understanding, and
students' grade level standards mastery

An end-of-course performance based task measuring grade level standards mastery

Additional resources for monitoring student progress include:

Student Learning Objectives (SLOs) are course-long learning objectives set by teachers to identify and then monitor student progress along a learning progression towards critical learning outcomes. Based on the Colorado Academic and Common Core State Standards, the goal of SLOs is to focus teachers on setting ambitious, realistic and measurable objectives towards student mastery of the S­tandards.

SLOs provide a process by which teachers start in the right place – determining what our students need to know by the end of each course to succeed in college, career and life. Teachers then plan backwards in an aligned, thoughtful way to ensure that every minute of instruction and assessment is working towards our common goal of Every Child Succeeds. By implementing SLOs, DPS seeks to maximize student growth by making effective teaching practices a part of every teacher's planning.

Please Note: SLOs and Capstone use the same rubrics and sample tasks; therefore, any task aligned to a district model SLO may also be used for a student's Capstone Portfolio.


General Resources

Student Learning Objectives: An Overview
SLO Handbook
Frequently Asked Questions
SLO Requirements - Guidance and Recommendations
SLO Action List
Schoology Course: DPS Student Learning Objectives: 101
(strongly recommended for all teachers and leaders new to DPS)
(e-mail SLOhelp@dpsk12.org for access code)

LEAP and SLOs

SLO Scoring Matrix
Overview of SLOs and Student Growth
Finalizing which SLOs are used in LEAP Evaluation

Process Resources

Preparedness and Baseline Data
Determining Baseline Preparedness Turnkey
Protocol for Determining Student Preparedness Levels
Building a Learning Progression Rubric
SLO Conversation Facilitator Guide - Baseline Preparedness
Adjusting Preparedness After an SLO Long Term Goal is Approved

Progress Monitoring Student Progress
Body of Evidence – Guiding Questions
SLO Conversation Facilitator Guide - Mid Year Conversation


Determining End-of-Course Expectation Levels
Protocol for Determining End-of-Year Expectation Levels
SLO Conversation Facilitator Guide - EOY LEAP Conversation
What Expected, One Year of Growth Looks Like From Different Preparedness Levels
Reaching Collaborative Consensus on SLO end-of-course levels
Guidance for Neutral Content Experts - Supporting SLO Collaborative Consensus
Neutral Content Expert Feedback Template

Pre-Recorded screencast for teachers on SLO End-of-Year Approval Process Updates

Information for ELD Teachers, Special Educators, Non-Classroom Licensed Professionals, and Other Sub-Groups

ELD
District Model ELD SLO Update Summary
District Model ELD SLO Updates Screencast
Guidance for Determining Language Proficiency Levels (both baseline and EOY)

Other Sub-Groups
SLO Guidance for Pathways Teachers
SLO Guidance for Gifted and Talented
SLOs for Licensed Professionals Other Than Classroom Teachers


For School Leaders

End-of-Year SLO Approval Process Updates

SLO Application Resources

SLO Application Teacher User Guide
SLO Application SSPs/Others User Guide
SLO Application Evaluator of Teachers User Guide
SLO Application Evaluator of SSPs/Others User Guide
Teacher-Student Attribution Guidance
**New for 2019-20 ** User Guide to upload SLO levels from a data tracker in Excel or Google Sheets

For more information on the SLO process for SSPs see the SSP SLO website. Please contact the Talent Management team for any questions regarding the SLO process for SSPs.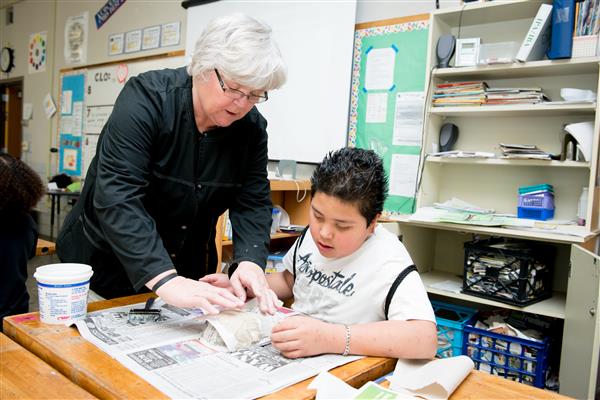 Contact
---

Questions?
Jonathon Haradon
Assessment Specialist - Student Learning Objectives

AR&D Hotline: (720) 423-3736