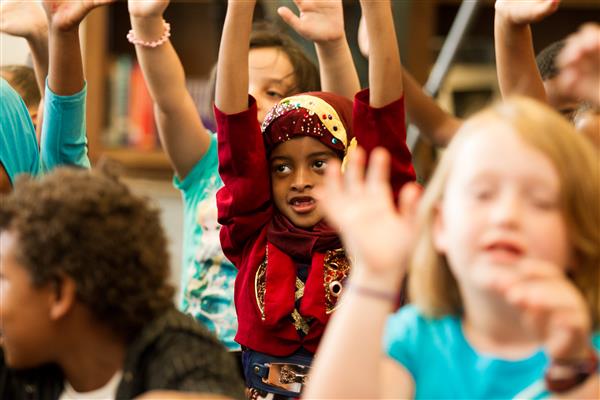 Newcomer Resources
Newcomers are English Learners who are new to the country and identified as having limited or interrupted education, as well as minimal literacy skills in both their native language and English. Newcomer Centers serve these students for one or two semesters to prepare them for participation in an ELA program at their DPS school. Newcomer Centers are located at Isabella Bird Community School, Place Bridge Academy, Merrill Middle School, DCIS-Montbello, Abraham Lincoln High School and South High School. Below are resources for working with Newcomer students and referring them to a Newcomer Center.


If you have a student who would benefit from Newcomer Center services, complete the form below and follow the instructions for submitting it on the bottom of the form. For more information, call 720.423.2204

Information about Newcomer Centers for families can be found here on the public ELA website.

Newcomer Handbook

This interactive PDF contains a wealth of information and resources to help schools assist Newcomers. Please note: To access this handbook, you must be a DPS employee and be logged into your DPS Google (dpsk12.net) account.
Why does DPS have Newcomer Centers?

DPS is home to a variety of students, including a large percentage who benefit from Newcomer services. While district demographics and housing patterns shift over time, we have adjusted alongside our student populations, and at the beginning of the 2015-2016 school year, DPS added two new Newcomer High Schools (Lincoln and DCIS Montbello) and an additional Elementary school (Isabella Bird). Students at our Newcomer Centers get the opportunity to:

Develop basic literacy/numeracy skills
Acquire basic academic knowledge
Receive targeted instruction related to cognitively demanding grade-level academic language proficiency while at the same time learning grade-level content knowledge

I have a student that I believe is a Newcomer. What should I do?

Please see the Newcomer Center Overview and Intake Form to see the process for enrolling Newcomer students at a Newcomer center. Please keep in mind that to enroll a student in a Newcomer Center, the student must meet DPS' definition of a Newcomer. If a student does not qualify as a Newcomer, or turns down Newcomer Center offerings, the school of choice will serve as the student's home school. According to the 2012 Modified Consent Decree, all teachers in DPS must be ELA-E/ ELA-S certified, which means that all teachers in DPS are trained and prepared to teach students with low English skills. If you are interested in more training on how to support teachers with differentiation strategies, please contact Hope Flores.

Is there a difference between Newcomers and beginning level English learner?

Yes. Not all students who are at ACCESS Levels 1-2 are Newcomers. Students with continuous schooling and literacy in their native language do not necessarily benefit from newcomer programming, and are best instructed in an ELA-E/ELA-S classroom.

What is the difference between a Newcomer and a SIFE (Student with Interrupted Formal Education)?

Because of how we define "Newcomer", there is no difference between a Newcomer and a SIFE.

A student is new to the country. Are they automatically placed in a Newcomer Center?

No, students must meet all the criteria above to be considered for Newcomer Center placement.

There is a Newcomer who choiced into my school, but I don't believe we are the right placement for him/her, because I don't believe we can support him/her as well as a Newcomer Center.

As a choice district, all students and their parents in DPS have the right to attend any school, which means that every school in DPS must be prepared to serve ALL students, regardless of educational background, language levels, or native language. While Newcomer Centers have the ability to offer additional supports and resources, it is ultimately up to students and parents which school they want to attend. If a Newcomer chooses to stay at their choice school, it is the responsibility of the school to provide all services and supports that a Newcomer needs to be successful. For additional support, please contact Hope Flores.

Can a Kindergarten student be a newcomer?

Technically, no, since the DPS definition of a Newcomer states that Newcomers must have been enrolled in a school in the United States for less than one school year. Students who enter Kindergarten, first or second grade with little to no English should be placed in a classroom with other ELA-E/ELA-S students, as appropriate, and participate in language building activities like all grade-level students. For additional support, please reach out to the ELA
Department.

Are families required to opt into Newcomer programming if they meet all three requirements?

No. As a choice district, families and students have the option to choice in or out of Newcomer Center programming. If a Newcomer chooses to stay at their choice school which is not a Newcomer Center, it is the responsibility of the school to provide all services and supports that a Newcomer needs to be successful.
What ELD classes should Newcomers take?

Secondary Newcomers: Students with ACCESS levels of 1 or 2 should receive a double-block of ELD in lieu of an English Language Arts class.

How long does a student stay a Newcomer?

Students typically remain a Newcomer for two semesters, but the choice can be made at the school level to keep students enrolled as a Newcomer for an additional year. Newcomer Centers have their own plans for transitioning students, and additional considerations must be made for high school students due to graduation requirements.

How does a Newcomer in a Non-Newcomer Center transition into mainstream classes?

Newcomer designation in IC drops off automatically after 1 school year (2 semesters). Individual schools determine when students transition to an ELA-E classroom.

I originally thought a student needed Newcomer services, but now I don't think he/she does - what should I do?

Schools have existing protocols for exiting students from Newcomer programming. At semester, re-evaluate students and determine if you think they can be mainstreamed for certain subjects. Give them as much support they need until they can be successful in programming, especially at the high school level, because graduation requirements factor in.

Do students receive academic credit for Newcomer programming?

No - they get academic elective credit. This has implications at the high school level where being placed in Newcomer programming could potentially affect a student being able to achieve all of his/her graduation requirements on time.

How do I know if a student is a refugee/asylee/immigrant/etc.?

Due to the Family Educational Rights and Privacy Act (FERPA) and the U.S. Supreme Court ruling in the Plyler vs. Doe (1982) case, DPS does not release any personal student information such as immigration or refugee status.