Pass
Knowing when and where each student gets on and off the school bus is vital. The +Pass is an RFID-card that the student scans with the card reader when entering or exiting the school bus. Every transportation-eligible student in DPS who rides a yellow school bus is required to use their +Pass every day, no exceptions.

Process for using the +Pass

Students must scan their +Pass when boarding and exiting the bus.
If a student loses their +Pass, they can ride the bus in the morning and afternoon for three days. The driver will deliver a replacement +Pass to the student as soon as it's ready, no longer than three days. If the +Pass is delivered on the third day and the student forgets it on the fourth afternoon, a parent will have to pick up the student from school.
Transportation Services will let families know their student didn't have their +Pass.
Replacements can be ordered by parents/students through the school or Transportation Services if it should be lost.
School workers can order a replacement +Pass through Infinite Campus.

Benefits of a +Pass

The +Pass will help us monitor ridership. Should any student miss their bus or get off on the wrong stop, we will be able to look them up and see which bus they last rode.
With +Pass, we will know more about how students are using transportation, and also be able to improve our overall service by more efficiently managing where we place buses and routes.
The +Pass also helps us only routing for students who actually use their transportation eligibility. This will save time and money.
New +Pass Design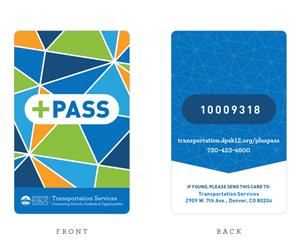 These guidelines provide schools important instructions on how to encourage utilization and to conduct proper management of replacement and temporary passes.

These guidelines provide important instructions to promote consistent and positive usage of the +Pass by students. Schools and families are encouraged to support these guidelines.

These guidelines provide important instructions to for our Drivers and Paraprofessionals to follow prior to, during and after their routes.